Project Management Course
Status

Close

Payment

Free
For more details, contact our Learning Center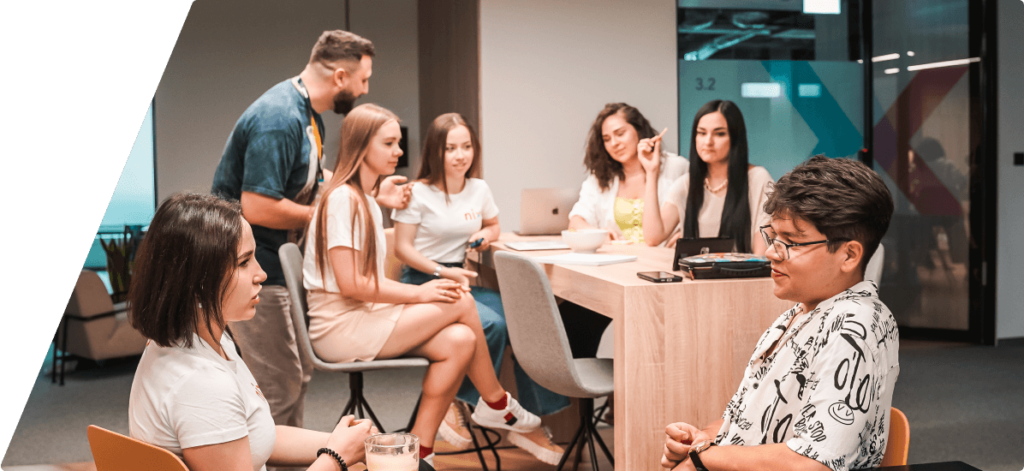 The program duration is 7 weeks. The training has a hybrid format: online lectures and a weekly meeting with a mentor at the NIX office for group lessons. Homework assignments will help you to apply the knowledge gained from the lectures in practice.

NIX courses are an opportunity to join our team immediately after training.
During the PM course, you'll learn
The basic concepts of project management in IT — this will help you better understand the specifics of the industry;
How to launch a project and successfully achieve all the goals set by the client;
Choose a project management strategy according to its life cycles;
Use flexible approaches to software development;
Plan and control project execution;
Communicate effectively with all participants of the development process.
The course program reflects the main tasks of a Project Manager in IT. Students learn how to collect data to start a project, as well as create a roadmap to estimate the duration of its implementation. In practice, they apply the Agile model as a well-known flexible approach to software development. The knowledge gained will allow you to turn customer ideas into a business case or Lean Canvas and accurately communicate product requirements to the team. After the course, students will be able to choose the best methodology for managing a project and correctly estimate its success.
English language level at least B2 and above;
A passion to master project management to help IT businesses solve their problems;
Willingness to work for results and motivate the team to achieve goals.
The program includes theoretical and practical parts.
The course consists of 10 lectures 2 hours each, which are available online for self-study at a time convenient for the students.
To master the material, there are 8 homework assignments after each module.
During the course, students are asked to complete 5 tests to check their progress.
Meetings with mentors will be held once a week at the NIX office. In a group of 2-3 students, everyone will be able to discuss their homework in detail and receive personalized feedback from an expert.